LARGE POWER honored with Advanced Party Organization
2021-07-03 16:07:05 Pageview: 1199
On January 17, 2020, with the theme of "Two New"(New Economy Organization and New Social Organizations) party organization "remains the original aspiration and remembers the mission" education summary conference and 2019 annual meeting were held by the Communist Party of China Nancheng Street Enterprise Work Committee and China's Communist Social Organizations Committee. At the meeting, the party branch of Dongguan Large Electronics Co., Ltd. honored with "2019 Nancheng Street 'Two New' Advanced Party Organizations".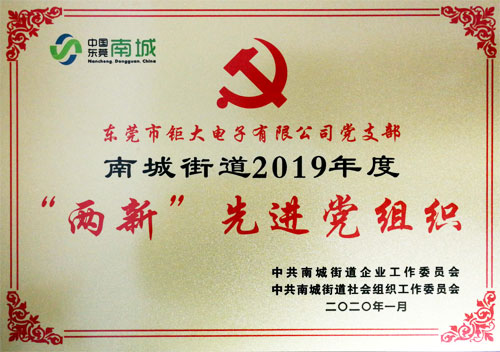 Since 2019, Nancheng Street "Two New" party organizations have actively carried out the theme education of "remains the original aspiration and remembers the mission" and implemented work requirements of the Enterprise Work Committee and Social Organization Work Committee. After then, a number of advanced grass-roots party organizations and outstanding communist party members stand out.
With the leadership of higher party organization, leading by Xi Jinping Thought on Socialism with Chinese Characteristics for a New Era, Large Power party branch earnestly learns and carries out the spirit of the 19th CPC national congress, focuses on the work plan and the central task, strengthens the construction of the party's ideology, organization, style and system, dedicates to party building work on the spirit of reform and innovation, so as to realize the enterprise management and common development of party construction.
The title of advanced party organization is the affirmation of superior party organization to Dongguan Large Electronics Co., Ltd. It will encourage all party members in the party branch to work harder, create new achievements, and create a new situation of the party work.